WORSHIP

Gateway City Church is a place where an environment of worship is celebrated. God meets with us here, and we are refreshed. We believe you can find Him here, too.

STUDY

Gateway City Church is a place where the Bible is both held sacred and studied. It is a place where you will find a timeless and still contemporary message that will help you meet the challenges and opportunities of daily living.

GROWTH OPPORTUNITIES

Gateway City Church is a place where a wide variety of personal and family enrichment programming is maintained. This means all year long there are special ministries and programs for all ages and among them will be many which are just right for you.

SERVICE

Gateway City Church is a place where your efforts to "make a difference" can be combined with those of others with similar commitments, for a more telling impact.

FRIENDSHIP

Gateway City Church is a place where Christian friendships flourish. A place where relationships are established to last a lifetime and longer.
We are excited about the weekend with our special guest, Joshua Mills!!!
Posted on 10.23.2015
Joshua Mills will be at GCC TOMORROW AND SUNDAY!!
Saturday NYCGSSM Service is from 9am-3pm! There are still remaining seats left! Cost $30
Call Ellen to register at (718) 921-4673.
Sunday Morning Services at 8:30 and 11AM.
See you there!
YouTube Video on Joshua Mills' Teaching:
Register to be a guest student at NYCGSSM!
Posted on 10.21.2015
Space is still available. Call to register for this dynamic event with Joshua Mills on October 24th.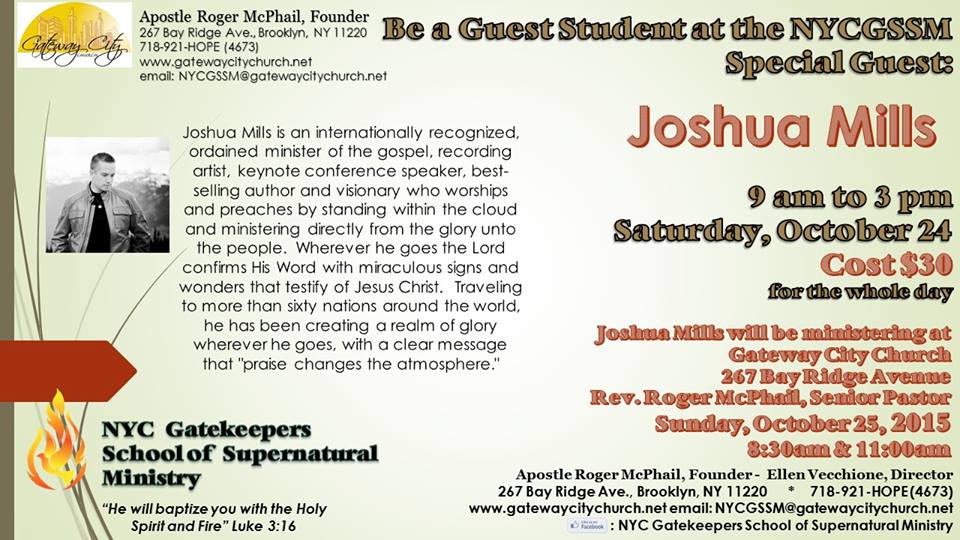 October 24th & 25th Weekend with Special Guest Joshua Mills
Posted on 10.19.2015
Be a guest student at NYCGSSM on Saturday, October 24th 9AM-3PM Cost: $30
Dynamic Worship Services on Sunday, October 25th at 8:30 and 11am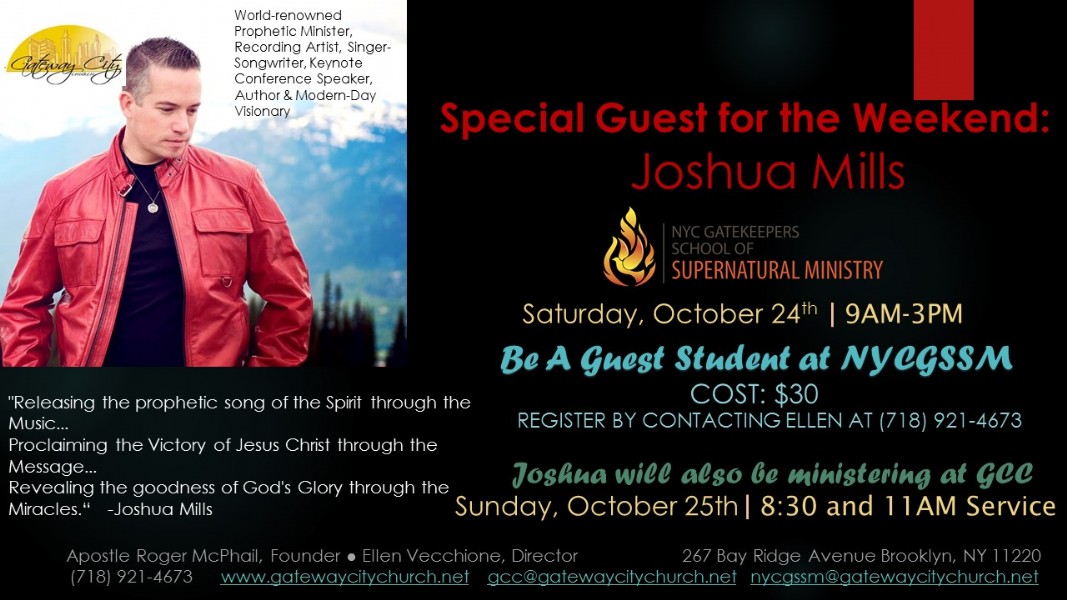 Men's Fellowship: July 25th at 9:30 am
Posted on 7.09.2015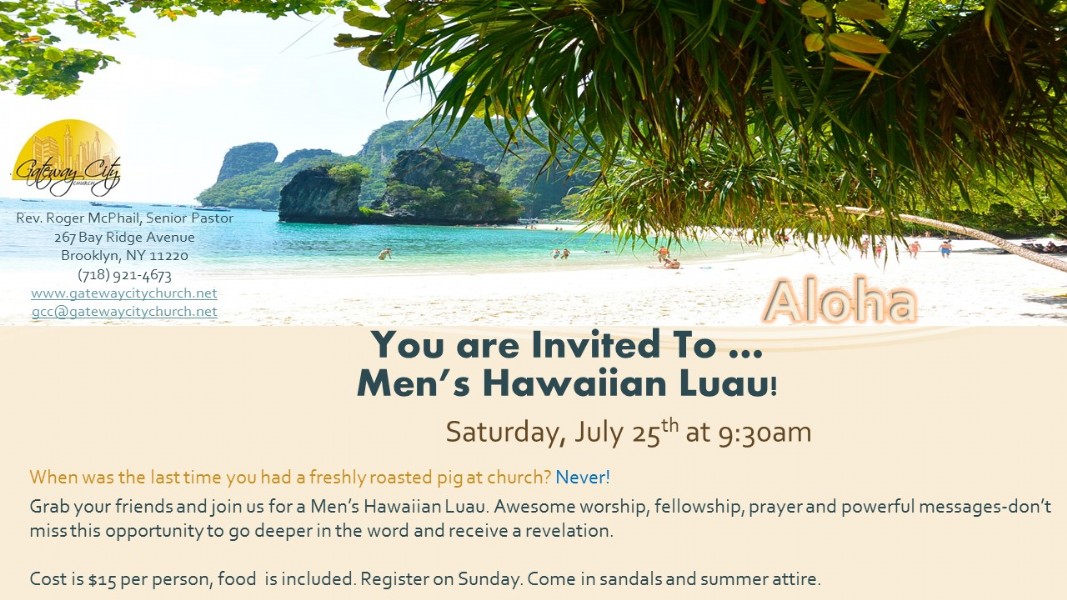 NYC Gatekeepers School of Supernatural Ministry Newsletter Debuts
Posted on 5.28.2015
The NYCGSSM monthly newsletter, will feature testimonies, book of the month and more from this f
iery ministry. Questions or comments? We'd love to hear from you. Please
don't hesitate to email:
nycgssm@gatewaycitychurch.net
View May newsletter here.
Honors Pastor Teresa McPhail!
Posted on 5.8.2015
Congrats to Pastor Teresa McPhail for being honored as a "Women of Distinction" by Senator Martin Golden. View details
here.